---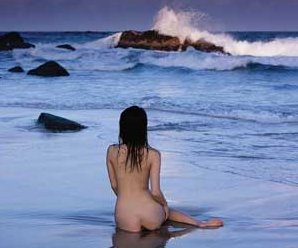 BEST NUDE AND TOP-FREE BEACHES IN THE CARIBBEAN
---
By Robert Curley, www.About.com
Looking for that perfect all-over tan? Many Caribbean islands set aside particular beaches for nude sunbathing, and on certain islands you can go topless at any beach. Just don't forget to apply sunscreen liberally in those, ahem, sensitive areas!
Note: If you're looking for a nude beach in the Caribbean, you'll fine more in the French and Dutch islands, fewer in the islands formerly ruled by Great Britain, which tend to be more culturally conservative. For example, all-nude sunbathing raises nary an eyebrow in St. Barths, whereas Bahamaians may frown on tourists wearing a bikini anywhere other than the beach.
---

1. Orient Beach, St. Martin

1. Orient Beach, St. Martin © Bob CurleyThe Dutch Caribbean countries have a very relaxed attitude toward topless sunbathing, so you can feel comfortable giving the "girls" some sun whether you are on the French or Dutch side of St. Martin/St. Maarten. For bottomless sunbathing, however, stick to Orient Beach on the French side, where it's not uncommon for entire families to be enjoying the sun and surf in the buff.

---

2. Grand Saline and Gouverneur Beach, St. Barthss

You'll find nude and topless sunbathing and swimming common throughout the French West Indies, including St. Barths, Guadeloupe, Martinique, and St. Martin. The attitude here is very laid-back: nude or not, it's your choice. St. Barths is a great destination for baring it all on the beach because some of its best strands, Grand Saline and Anse du Gouverneur, are clothing-optional. Not to mention that St. Barths is known for attracting the "beautiful people" to its upscale resorts and beaches

---

3. Point Tarare, Guadeloupe

You'll find topless sunbathing at most if not all of the beach resorts in Guadeloupe, but Pointe Tarare is the place to go if you want to swim and sunbathe sans any clothing at all. The trick is that the beach is 45 minutes from the main tourist hotels of Gosier, and there's little in the way of shade or services once you get there. On the other hand, you'll likely have a big stretch of this beautiful, secluded beach to yourself.

---

4. Hawksbill Bay, Antigua

Named for a uniquely shaped offshore rock formation, Hawsksbill Bay is a romantic, crescent-shaped public beach that's divided into a number of sections, one of which is the island's only nude beach. Hawksbill is close to the better-known Galley Bay and is one of Antigua's legendary 365 beaches -- one for each day of the year.

---

5. Seven Mile Beach, Negril, Jamaica

Negril has always had a free-spirited reputation, so its no surprise that the famous Seven Mile Beach is a magnet for topless -- and sometimes nude -- sunbathing. You can catch a glimpse of extra flesh almost anywhere along this strand, but especially around the Hedonism II and Grand Lido Negril resorts, each of which has its own nude beaches.
---
SCNA 23679 Calabasas Road Suite 940, Calabasas CA 91302 Messages: (818) 225-2275 Email: scna@socalnaturist.org