---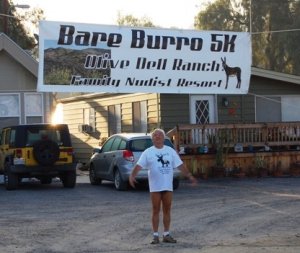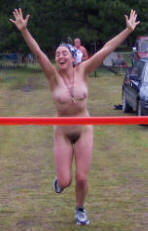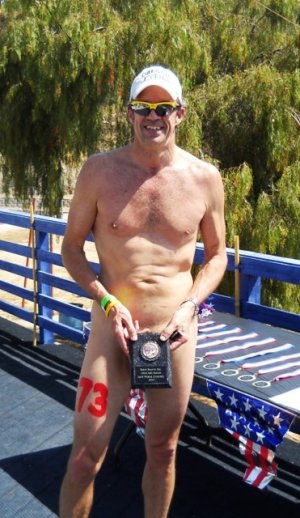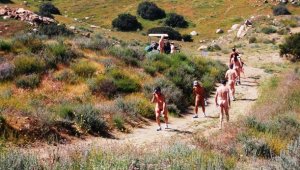 THE ANNUAL NUDE 5K BURRO RUN AT OLIVE DELL NUDIST RANCH
---
WHEN: The third Sunday of every April.
WHERE: Olive Dell Nudist Ranch
26520 Keissel Road
Colton, California 92324
Voice: 909-825-6619
E-Mail: contact@OliveDell.com
FAQ:
• Check-in starts at 9:00am 4/18, and we will gather for the race by 10:15.
• Dress code for the race: The actual race is run nude except for socks and gym shoes. Women may wear a sports bra.
• There is a $25 fee to run in the race (includes gate fee.) Some may choose to walk the race instead of run. Spouse and partners may watch for no gate fee, and won't be required to get nude to do so.
• For non-runners who play to stay the rest of the day, the normal gate fees apply ($10/person).
• People who register up to 10 days before the race will get a commemorative T-shirt. Those who register after that date (or on race day) will not get a t-shirt, sorry.
• On the day before the race (Saturday) there is always a pre-race freehike of the course through Dellymaze Park and the Olive Dell Nature Trail.
• The restaurant will be open all weekend. Usually there is a celebration afte the race with ribbons and plaques handed out, plus a BBQ.
• On average, we see at least 50 people running or walking the course. There is no age limit to participate an in the past we have had persons as young as three years old and as old as 80. People are coming from as far away as Arizona, Utah, and Idaho.
---
Regarding this year's race, I've posted more photos of the Bare Burro 5K at: http://imageevent.com/kenandjane/bareburro5krace
Here are a few comments from participants:
"Can't thank you enough for opening Olive Dell to the celebration that was the Bare Burro Run. What a peak experience it was for me: I'd never run in an organized race, never run with others in a nude race, and I'd never won a medal for anything athletic in my life. But all of these "first time experiences" were sandwiched into one day on April 18! At 62 years old, such things don't happen that often. And I made new friends that I'm planning nude activities with. In fact, yesterday four of us who met at the 5 K trekked out to Deep Creek Hot Springs and spent a glorious afternoon soaking and hiking along the river. We're all big fans now of Olive Dell. I'd love to come back soon to run the course again and get to know more of the lovely folks who make up your community. Thanks for your generosity . . . and your genius!' - Vin F. (Los Angeles) "I have been a naturist all my life. I do a lot of nude hiking, camping, and work at home naked, but this was the first time I have been to nudist resort. The 5K run was a terrific way to be introduced to your amazing resort. Really enjoyed the day and even did some naked bike riding. You did a great job of organizing this for the first time. I have done other events and yours was as good if not better than others I have been to. Looking forward to the next one and visiting your resort again in the very near future and hope to be part of this great place." – Robert
"I had a great time [at the Bare Burro 5K]. I was a little apprehensive about visiting a nudist resort for the first time but as soon as I spoke with the members it was clear I was welcome." – Thad "Love the event [the Bare Burro 5K], and love the facility. Just came back from a second visit." - Paul "I very much enjoyed the 5K run and my first visit to the Ranch. I hope to visit again soon and certainly expect to attend the 2nd annual Bare Burro run." - Ed
"I had a great time [at the Bare Burro 5K]. Challenging course! I'd love to run it more. I guess I could if I were to visit there again. Perhaps, I can get my wife to come and take a look." – Doug "Thanks for a putting such a great run together! Beautiful scenery, friendly people and a challenging, KILLER course! Thanks to all the volunteers too - their support, enthusiasm and encouragement rivaled and even surpassed many of the large-scale professionally-managed runs that I've done." - Ivy C.
"Thank You for hosting this event [the Bare Burro 5K]. I've always wanted to run free in a safe environment. I enjoyed it a lot and look forward to more events like this. I specially wish to participate in a challenging nude bike ride. I also wished to have body paintings done. I'd love to see some of the pics in the newsletter, specially mine if anyone has it. I was number 92." - Muni
"The Bare Burro 5K Run was a lot of fun. I had a blast. Olive Dell's organization was great and it far exceeded my expectations. It was real nice to see the event attended by people of all ages. The course was demanding but fun and the turnout was amazing. It was a shame I had other commitments and could not stay for the rest of the day. I am looking forward to next year's event! Hopefully, naturists and nudists could use this annual event to reach out to the younger generations and for textiles to give it a try. I know many of them participate in mud runs or "undie" runs so why not encourage them to take it a step further. Maybe you could have some flyers put on the windshields of cars at one of those other events." - Ron M.
"I've been wanting to try a nude 5k for years and had a good time at the Bare Burro run. Thanks for putting it together." - John
"I never ran more than half a mile until our 5k Bare Burro. I had so much fun and this is how running was intended to be done, in the buff with no inhibitions - just like how the Greeks did it during their Olympics. And, thanks to you guys at Olive Dell Ranch for this memorable and tremendous experience which I will be adding to my list of things to do naked before you leave this earth. I'm glad to be a part of this historical event at your beautiful and family oriented resort. Most importantly, I had great time with all you guys! As a guest, I felt welcome and met many wonderful people." - Gil G.
---
SCNA 23679 Calabasas Road Suite 940, Calabasas CA 91302 Messages: (818) 225-2275 Email: scna@socalnaturist.org