---
Poll: Seniors Love Nude Travel Destinations - Who Knew?
---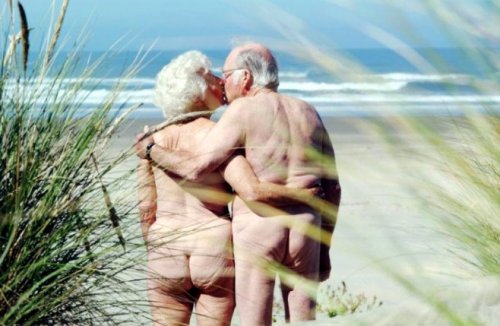 Have you gone skinny dipping? Would you? Are you more or less daring than other seniors? In honor of Nude Recreation Week, the Internet web site About.com wanted to find out, so they asked their Internet readers to respond to their online poll during the second week in July. The results were unexpectedly favorable toward skinny-dippers.
Are You Too Old to Go Skinny Dipping? Take the Poll and Tell Us
If you are a baby boomer, you may have fond memories of moonlight skinny dipping, stripping off to jump in a pool and other wild antics of youth. You don't have to be a nudist (or a naturist as they call them in Europe) to enjoy the occasional swim au naturelle. But would you do it now or do you think you are past that sort of thing? Are there some circumstances when you might? Take our poll and let us know what you think.
POLL RESULTS RELEASED July 15, 2006:
Q. Would you like to go skinny-dipping at your age?
| | |
| --- | --- |
| I've never done it and I never will | 1% |
| I used to swim nude but I'm too old now | 2% |
| I would if I were in better shape | 2% |
| I would only skinny dip in private | 2% |
| I would swim nude in a public place if I could be discreet | 2% |
| I would do it with my partner | 3% |
| I would swim nude in the company of others like myself | 24% |
| I would skinny dip anywhere, anytime | 25% |
| Swimsuit? What's that? | 38% |

Total Votes: 802.
Accompanying the poll was a favorable article by Ferne Arfin, who writes a monthly Your Guide to Senior Travel column on the About.com web site: http://seniortravel.about.com/b/a/257522.htm.
07/07/2006 - I first went skinny dipping in the surf off a huge deserted beach - not actually a nude beach - along the South Coast of Nantucket -- this was before Jaws made me afraid of swimming off huge deserted beaches. My friend and I frolicked in the waves and stood brazenly, waist deep in the water to salute a small private plane passing overhead. We were so shocked when the pilot saluted us back with a wing waggle that she and I immediately dove back under the water. On another occasion not long after, my husband and I found a tiny, secluded cove on the edge of Walden Pond, in Concord. (Nude beaches are where you find them.) There, in that place made almost sacred by Thoreau, we swam naked, shielded by dark brown, oak leaf-stained water. Afterward, we waited for the moment when no one was passing to dash for our clothes. And as I did so, the voice of a teenaged boy, carried from across the pond at least a quarter of a mile away. "Hey, look at that. That lady's naked!" I've never scrambled into my clothes quicker -- or wore so many items inside out. I took three lessons away from these two experiences:
(1) I'm not much of an exhibitionist;
(2) Skinny dipping feels terrific;
(3) Boys can see really far without binoculars!
Over the years I've always been on the lookout for nude beaches where I can indulge privately or with discretion. If you have fond memories of skinny-dipping when you were younger and would like to do it again but are afraid of finding yourself surrounded by an intimidating array of nubile bathing beauties, consider the qualities that make the best nude beaches for seniors. Then read about some senior-friendly favorites that meet these criteria: Large and sparsely populated nude beaches allow individuals, couples and groups to give each other plenty of space for privacy and discretion.
Secluded coves on deeply indented shorelines are great places to go skinny dipping à deux. Look for the sort of unnamed pockets of sand that can only be reached by boat or down secret, wooded paths. The Greek islands are good places to look for these. I've found good ones on Spetses and Zakynthos.
Tolerant locals are vital. Usually, whether nude swimming is allowed, legal or not, depends on your respect for local customs. On Crete, for example, nudity was tolerated on weekdays but prosecuted on the weekend because local families brought their children to the beach then and they objected.
Warm water helps a lot. If you are at all shy or nervous about skinny-dipping, you don't want to stand, shivering, knee deep in the water while your cellulite gets goose bumps. Warm bodies of water — Caribbean, the Indian Ocean, the Mediterranean, Aegean and the Gulf of Mexico — are ideal for a quick dash.
Germans and Eastern Europeans are the most uninhibited nude bathers. If Europeans are less self-conscious than Americans and Brits about stripping on public beaches, Germans, Russians and other East Europeans are the least self-conscious of all. Visit the beaches they like, and you'll be surrounded by people who don't give a toss about what you or they look like in the buff.
Affordable resorts with private pools are a good option if you really are too shy to go skinny-dipping in public but want to try swimming nude in the open air.
THE FAVORITE NUDE BEACHES FOR SENIORS ARE:
Hawksbill Resort on Antigua
Pavilions and Pools in St. Thomas, U.S. Virgin Islands
Kehena Beach, Hawaii
Little Beach at Makena, Maui
Papohaku Beach, Molokai
Playalinda Beach
German island of Sylt
---
SCNA 23679 Calabasas Road Suite 940, Calabasas CA 91302 Messages: (818) 225-2275 Email: scna@socalnaturist.org