Nude Yoga Classes
SCNA strives to provide activities that our members have requested. Nude yoga has been a perennial request. There are currently three yoga instructors that offer nude yoga for SCNA members. One is a monthly men-only class in Canoga Park. The second holds classes in Altadena for mixed groups or for women only. The other is weekly classes offered in the West-LA/Venice area.
We are looking for female-only or co-ed classes in the Valley.
Canoga Park
Your instructor is a Certified Personal Fitness Trainer. For the past 20 years he has conducted classes in yoga, stretch, pilates and cycling all over the USA and Europe.
The class is Yoga Basics: yoga poses held longer to stretch the muscles and to create greater heat for detoxing the body. Simple to follow for all skill levels.
Classes are scheduled for Saturday mornings from 9:30 to 10:30. (Please note that this a time change from previous years.)
A minimum of 5 students is required for a session to be held. There is a maximum of 20 students per class.
Cost:
$20 per person
Dates:
March 17
April 14
May 6
June 2
July 7
August 4
September 15
October 13
November 10
December 8
Reserve:
Men who would like to attend this class should RSVP directly to Johny at urbanbodies@hotmail.com. Directions will given upon your RSVP. Payment should also be made directly to the instructor.
Altadena
Your instructor is Christina Sirgun Powers, a certified Kundalini Yoga teacher and owner of the Yoga For Balance studio in Altadena.
Kundalini Yoga combinines meditation, mantra, physical exercises and breathing techniques. Beginners need not worry, the emphasis is more on awareness and relaxation than on difficult postures.
Each month Christina will teach two Co-Ed classes on the first and third Sunday. A Woman's Only class and Couples Only class will only be offered if enough students are interested in them. Please contact Christina directly at sirgunkaur1@gmail.com for the Women's and Couple's Only classes. You may register for the Co-Ed classes at the link below.
Classes are scheduled for Sunday mornings from 9:30 to 11:00.
A minimum of 5 students is required for a session to be held.
Cost:
$30 per person. An online processing fee is added for each class. A block of six classes is offered at a discount.
Dates:
Co-ed Classes:
March 4
March 18
April 1
April 15
May 6
May 20
Reserve:
Advance registration is required.
Register for the Co-Ed classes
Christina has many other clothed classes and programs available at her studio. Please contact her directly at sirgunkaur1@gmail.com for more information on them.
West LA/Venice
These classes are independent of the SCNA, but are of interest to our members, so we make them known here. The classes are Vinyasa Flow yoga for the Beginner to Intermediate level. They are managed via the Los Angeles Nude Yoga Meetup group. To find the class schedules and reserve a space, one should join their Meetup group and make a reservation there. The cost of the classes are $25 per person.
Dates:
Classes are currently held every Sunday morning from 10:30 to 11:30
Class Requirements
Bring a towel, a mat, drinking water.
No NOT wear perfume or cologne.
Do NOT eat 2 hours before class begins.
Why Nude Yoga?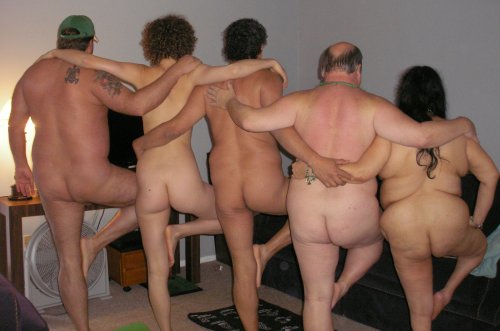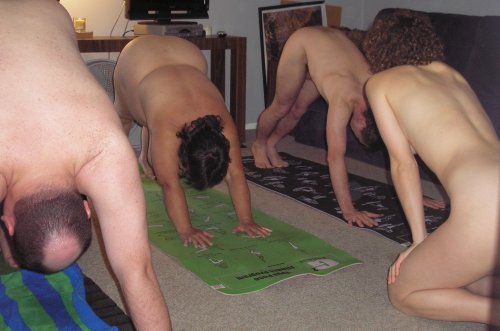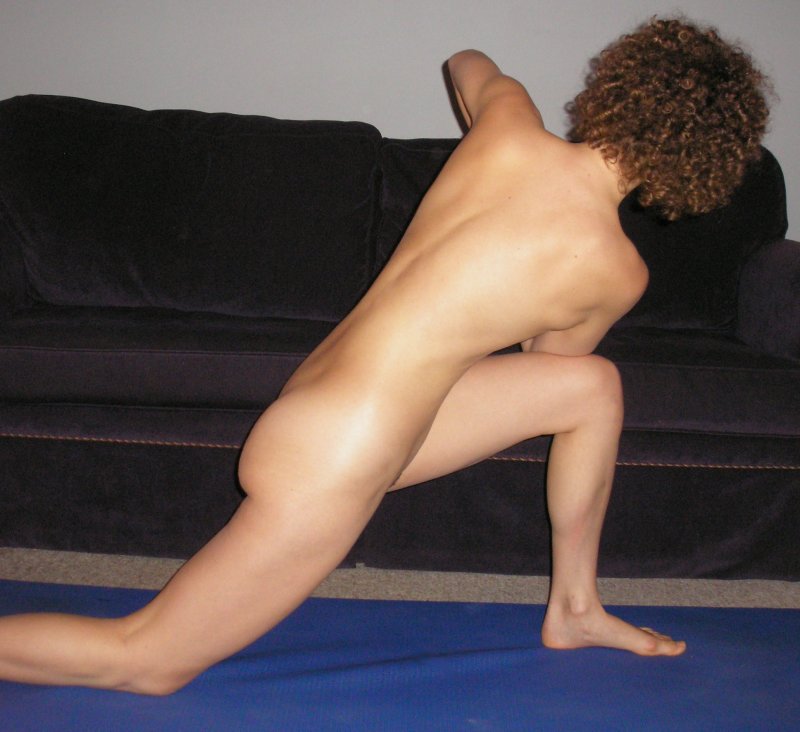 Nude Yoga Enables a Positive Body Image

Nude yoga helps anyone who wishes to be free of the emotional shackles that prevent us from celebrating all our unique physiques and capabilities. When people who suffer from low self-esteem and poor body image can practice without clothing in a safe, nurturing environment, they come to appreciate their bodies and understand that their feelings of shame are not their own, but a kind of inherited mind-state that comes as a result of societal judgments. It helps you discover an entirely new way of looking at your own body, inspiring you to take embrace your imperfections and open your heart to yourself and to the world with pride, courage and confidence.

Nude Yoga Furthers the Mind-Body-Spirit Connection

When we consider the role that clothing has played in society, it seems to be in direct opposition to the spirit of yoga. By design, clothing reminds us of our differences and serves as a distraction that leads us away from a central yogic principal: the commonality of all living things. So a well-designed yoga class without the restriction of clothing promotes a greater sense of freedom, confidence, and an enhanced appreciation for the body. Seeing and feeling the body as it stretches and moves from one pose to the next results in more stress reduction, increased energy, enhanced overall strength, stamina and flexibility, plus improved respiratory, cardiovascular, endocrine and brain function.

Nude Yoga Creates Numerous Physical and Mental Health Benefits!

Nude yoga allows people to experience freedom from inhibitions, opinions of others and any shame about the body, which can lead to low energy and poor health. As you learn greater self-acceptance, negativity burns away and any physical repercussions resulting from holding toxic emotions get resolved. The body, mind and spirit unite and heal, and you feel deeply energized, vital and calm./

Nude Yoga is Sensual!

While nude yoga in its true form has little to do with society's preconceived notions of sex or eroticism, make no mistake, nude yoga can be very sensual internally. It's the feeling of being authentically connected, confident, and alive. Nude yoga gives people permission to feel joyful and radiant, at home in their own skin, blissfully unselfconscious and aware. It encourages practitioners to uncover their most primal, powerful, sacred, sensual, integrated, original selves.

Nude Yoga Reduces Self-Shame

Nude Yoga teaches us how to harness the transformative kundalini shakti, our sacred life force, while experiencing the freedom of moving through space without clothing to restrict our movement, and more importantly, freedom from the shame that restricts our souls.
Whatever you learn in any given class, whether it is a new way to focus your breath or a technique to lengthen and strengthen a muscle, or a way to draw earth energy up through your bubbling spring points, you get to take it with you. Yoga is a state of mind, a way of being. It is the ultimate fitness for body, mind and spirit. It can help you to transform your life. And it will inspire you to be the very best you can be.