Favorite Nudist Stories
Heard Around the Campfire
More Stories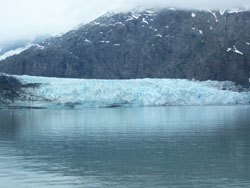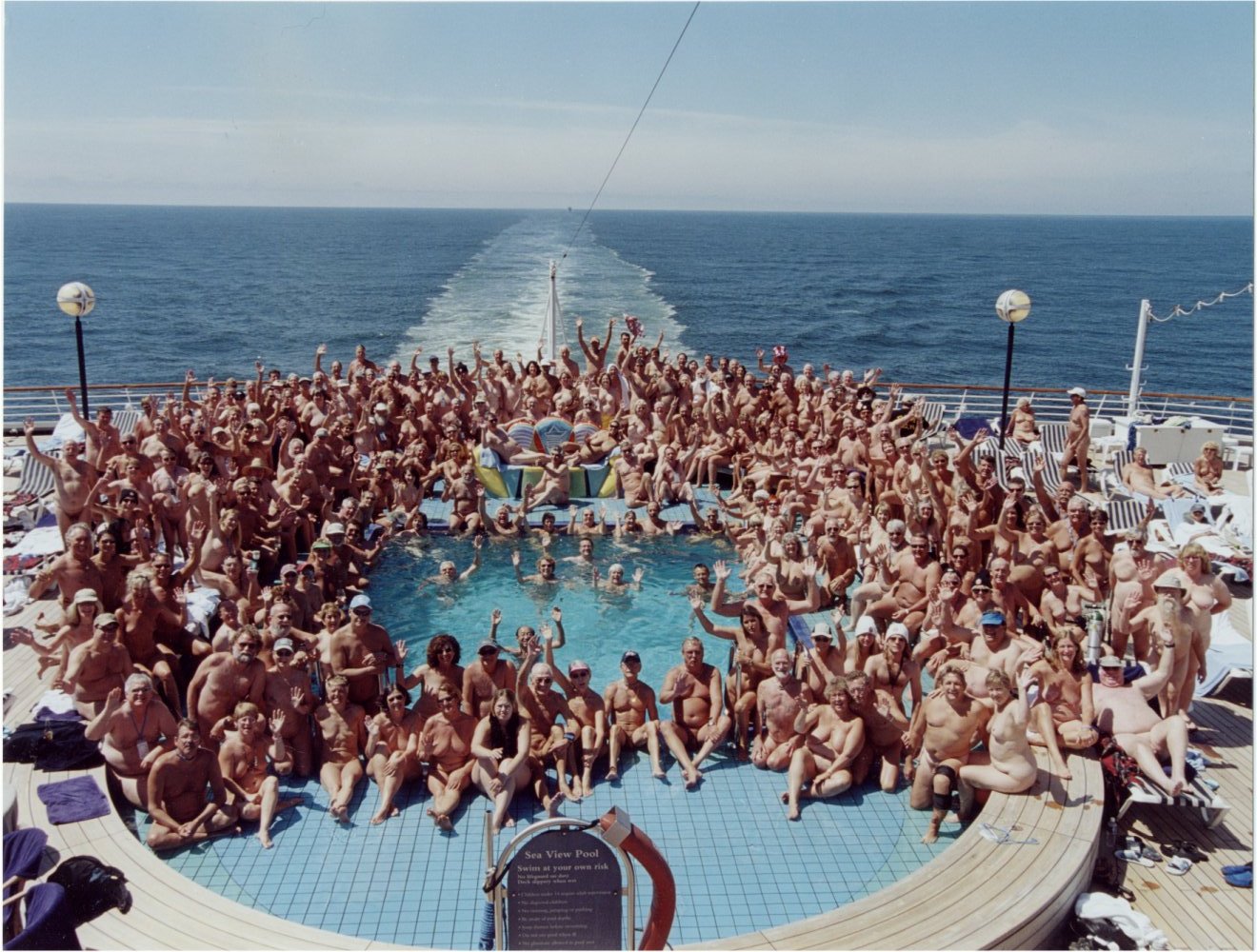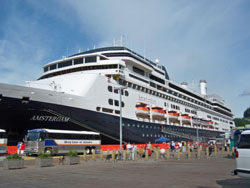 Left: "Matilda" glacier. Center: Group photo of many of the 1400 who went on the cruise. Right: The Amsterdam

Two SCNA members write separately of their adventures on the "Fire and Ice Nude Cruise" to Alaska July 20-27, 2007, sponsored by Bare Necessities Travel. Itinerary: Seattle, Juneau, Glacier Bay, Ketchikan, Sitka, Victoria, Seattle. Here are their stories: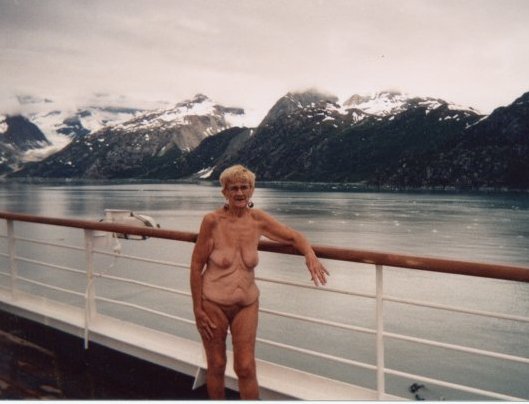 Jackie on deck
"MY FIRST NUDE CRUISE"
By Jackie Roose
On July 19, 2007 I flew to Seattle in preparation to debark on my first nude cruise. We were directed to Holland American for check-In and less than five minutes later we found ourselves on the bus that would take us to our ship, named The Amsterdam. Excitement was mounting. At 11:30am I boarded the ship and was directed to the Lido Deck for lunch. As I snacked on tasty salmon, the boat raised anchor and we were off for Juneau. Friday evening after dinner I headed to the casino deck. Tickets for a prize drawing were given to all of us as we played the slots…and I won! I am now a proud owner of a WINNERS tee shirt. Our first night the ocean became a little rocky, but I got through it okay. Saturday's breakfast on the Lido Deck was quite a spread, as all the meals would prove to be. My only surprise was that most everyone was either in the robes Holland American provided us, or clothed. Where were the nudists? I guess I expected it to be like the nudist resort, where everyone wears just their skin. Alas, I realized this was Alaska not the Caribbean. As the days wore on and the temperature outside began to drop, there was far more clothing and robes than nudity on the ship. The only exception was on the night before we docked in Juneau when the Holland American staff presented us with a beautiful show. It turns out the staff were more than just staff--they were also professional entertainers! But on this occasion – perhaps it was the temperature in the theater? – the audience finally dropped their robes, and so sitting there it became a truly nudist experience. The only such moment on the entire voyage. I just found that curious.
Sunday morning we docked in Juneau. In the afternoon I met the first tour, called the Salmon Bake. Wow! Great food, and gift shops. Back on the ship for dinner I met a nice couple from a nudist park in Texas. That was a fun dinner. We soon departed Juneau and headed for Glacier Bay. For me, seeing this was the reason for the cruise. I was very curious if anyone would pose nude for a photo near the glaciers, since by now the nudity had practically disappeared from the ship. I looked for a particular glacier named Margie that I had seen on a trip I had made to the area seven years before, but I couldn't find it. A ranger pointed out the spot to me and I was very surprised to see how much it had shrunk in the intervening years. Global Warming indeed!
As we cruised Glacier Bay I decided to go up on deck. I wanted to have my picture taken while nude with a glacier in the background if just to prove I was in there. I saw a man ask a lady if she would take his picture so I asked her also. It was so funny. Down went the robe, click went the camera and oh so quickly the robe returned to our bodies because of the cold. But it was fun!. Actually, this experience was the highlight of my cruise. I observed there were less than a dozen of us brave nudists on deck doing the same thing, so I have no idea if how many experienced what I did.
Tuesday we arrived In Sitka for another tour, which had a troupe of Russian Dancers entertain us. We arrived In Ketchikan on Wednesday and there I enjoyed a historical trolley ride through town. That night was Costume night on the ship. I had brought a costume for myself, but at the last minute I decided I did not want to parade around the theater so I changed my mind and I was a "no-show" at the event. [Mary Ann Hughes, president of the Olympian club was on the cruise and won the "Best Costume contest – Ed.]
Thursday night we arrived in beautiful Victoria. SCNA member John O'Brien, who was on the cruise, and I rode the horse drawn carriage through town. That last night on the ship was spent saying goodbye to friends we had met and exchanging cards and promises to write. We docked it Seattle the next morning. Buses were waiting to whisk us off the airport to wait for our flights back to Los Angeles.
My first nude is now past. Would I go on a nude cruise again? Perhaps a Caribbean cruise, if I went on it with a group of friends. But going on a cruise alone is really hard, especially if one is a little shy as I am. Still I have my photos to prove I did it, especially the one of me nude in front of the glacier. Now that is a conversation starter!

Left: John on deck. Right: Native Totems.

MY "NUDE CRUISE" TO ALASKA

By John J. O'Brien

I've been on clothing optional cruises before to the Caribbean and to Mexico, but never to Alaska. I didn't know exactly what to expect, but I did expect it to be cold. The passengers consisted of about 1,400 adventure seeking nudists, which included three SCNA members.

The weather cooperated; the seas were calm and the skies were fair with no rain or high wind for the entire voyage. The temperatures were cool but not unbearably cold, so most travelers milled about the ship nude or partially nude, but seldom ventured to the outside decks as the wind generated by the ship's forward velocity rendered it too cold to be nude there. Juneau was interesting and it was probably my favorite stop. I rode the tram about 1500 feet above the city and then hiked another 1000 ft or so up the mountain. Beautiful scenery. Bald Eagles abound everywhere! After that, I visited the Mendenhall Glacier and visited the infamous Red Dog Saloon before we were on our way to glacier bay. The décor is very colorful, and they pour a stiff drink!

The visit to Glacier Bay was almost a sacred and revered visit. The ship was rigged for silent running, low speed, no announcements on the loud speakers, the casino was shut down and other noise generating activities were minimized. On our way to the glaciers, a U.S. Park Ranger and a native from the local Tlingit tribe joined us to give talks and provide information and/or just answer questions. An interesting comment from the native Tlingit speaker was that Alaska does not have Eskimos! That was an expression created by visitors in olden times! We visited three Glaciers, and it was here that Bare Necessities had a nude group photo taken on the bow of the ship with the Glaciers and floating ice in the water as a backdrop.

Sitka was our next stop, and the history here informed us of the U.S. Marines occupation of this Island during WW II which began the growth and development of this area. It was here that I went to a Russian dance show only to find out that the dancers were all female, half of which were made up to look like men – and they were not Russian or even from Russian decent. They were all housewives or working mothers who wanted to supplement their income. It was at this point that the ship turned around and headed back to our origin stopping at Victoria, British Colombia. The British influence is evident in the city's buildings and architecture. Before we knew it we were back in Seattle and our fabulous journey was complete.

An important point to remember is that if you are taking a "Nude Cruise" primarily to enjoy the freedom of nudity, then by all means do consider your destination and season in your cruise selection.